SCREENFAST
Principle:
The sieve throughput as well as the separation of oversized material and Ultrasonic Supported Sieving Technology evenly transmits as oscillating motion, in the micron range, onto the screen surface.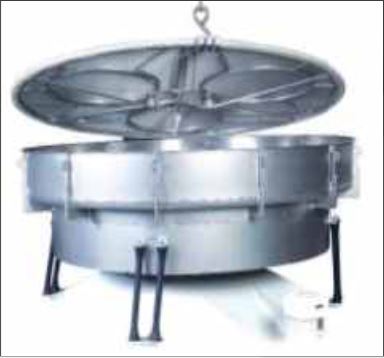 Components:
Ultrasonic Generator : A complete electronic unit that can be attached directly to the sieving machine, or mounted on a nearby wall.

Ultrasonic Sieve Resonator : Consists of a converter with ring resonator which are connected to the sieving frame with mounting plates, HF-electrical connection with housing and plug.

HF-connector cable: Standard length 3m/10 ft connects the Ultrasonic Sieving Resonator to the Ultrasonic Generator.
Advantages:
Increase in output upto 10times
Get rid of screen blinding
Achieve De-agglomeration of powder
Get Shaper cut and enhance the efficiency
No external power, hydraulic or battery require
No moving parts so less maintenance is required
Can be fitted easily in existing machine
Imparts the accelerating force only to the screen cloth hence there will be no damage to main body.
Longer screen life since cloth should not ne in tension.